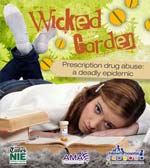 All Children's Hospital recently helped to produce "the Wicked Garden" edition of the Newspapers in Education publication, which focuses on prescription drug abuse. Thanks to: Dr. Mark Cavitt, Dr. Kristin Danielson, Dr. Kelly Hildebrand, Dr. Bob Morelli, and Dr. Wassam Rahman who contributed to the production of this publication.
Prescription drug abuse is a growing problem among adolescents across the nation and here in our community. According to the 2012 Florida Youth Substance Abuse Survey, almost one in ten Florida high school students has misused prescription pain relievers or prescription amphetamines. To address this issue, the Tampa Bay Times Newspapers in Education program published Wicked Garden to inform students of the dangers of prescription drug abuse and to discourage students from abusing them in the future. Millions of students across the Tampa Bay area will use these articles as a part of their classroom lessons.
The Newspapers in Education Program is an effort between schools and the Tampa Bay Times to promote the use of newspapers in print and electronic form as educational resources. Each year more than 5 million newspapers are provided to Tampa Bay area teachers and students free of change thanks to individual, corporate, and foundation sponsors. Wicked Garden was made possible by a partnership with All Children's Hospital and a grant from the American Medical Association Foundation.
All Children's has worked with the Tampa Bay Times on several other Newspapers in Education publications, including "A Voice for Teens," which focuses on teen health, and "Dirt to Plate," which focuses on eating fresh and healthy foods. Both can be found online at tampabay.com/nie.
The American Medical Association (AMA) Foundation is the philanthropic voice of the American Medical Association. The AMA Foundation advances public health and medical scholarships through philanthropic support of physician-directed initiatives.
Print and PDF copies of Wicked Garden are currently available. If you would like either version, please email sky.roberts@allkids.org.
The electronic version can also be found online at: http://www.nieonline.com/tbtimes/downloads/supplements/wicked_garden.pdf